Our Truthfinder Summary: Out of all the various background check services we've tested, Truthfinder is the most accurate and offers some of the best data out there.
TruthFinder Overall Rating:
Pros
Content, content, content! There were so many sections with information, direct links to social networks, and contact information.
All of the information was well organized and easy to find, with a navigation menu to help you get where you want to go quickly.
Not only were the social media links provided but they were expanded upon, showing recent content, user IDs, and profile picture.
The search produced information that went back over 15 years.
Cons
There seemed to be a few small incorrect links to social media as well as email and phone records but they were rather minor.
Meh
There were some pertinent bits of information that were left out, such as my schooling and various forms of contact.
Who is TruthFinder?
I stumbled upon TruthFinder.com as I was searching for answers. I had fallen out of contact with a good friend of mine when she moved across the country just after high school. I heard she had moved to California and started her family in Los Angeles but beyond that there wasn't much known about her. I was going to be visiting Los Angeles for a business trip, so I decided to try to find her so we could connect while I was out there. When I searched Facebook, there were entirely too many people and no way to know which was her. I knew I needed help searching so I went looking for a really reputable site that could help. I found TruthFinder.com to be the best option.
As it turns out, their home office is located in San Diego, California. They're a relatively new company, starting out in the spring of 2015, but perhaps that worked to their advantage. They seem to be focused on acknowledging information found in social media and making the most of the ever-expanding web of content and information that is available online. They make a point to let you know that they are keeping your information as well as your searches confidential, which is not something you find very often online these days.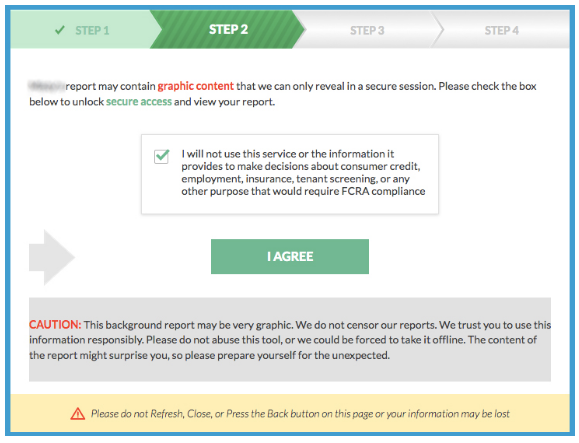 I decided to search for my friend and it gave me a list of a few people who would match my search, each showing age, relatives, cities lived in, etc so I could choose the right person.

Once I chose my person, it did a very thorough search of any possible online resources, including social networks!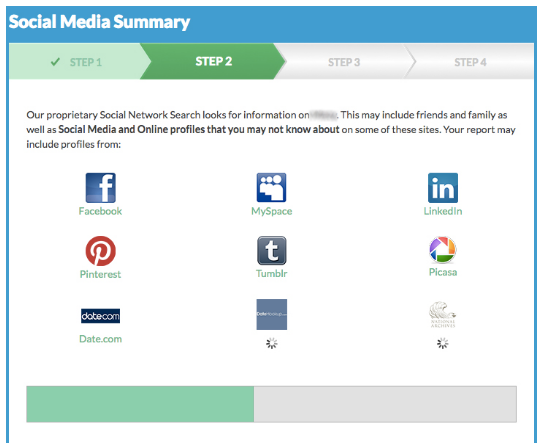 Visit TruthFinder
TruthFinder Pricing and Available Plans
The pricing and package options were very straightforward; $27.78/month if you wanted to take your subscription one month at a time or you could choose to start with a 3 month subscription for $23.02/month but you have to pay the 3 months ($69.07) up front. There were not confusing trial periods or hidden charges. They told you exactly what you received for the price and let you choose if you wanted to continue or not. I was able to view a sample report directly on the site and it gave me confidence that it would return the information I was seeking and help me locate my friend.

Once I got my report, I was very impressed! It gave me an incredible amount of information and it was almost like I was able to trace her life like a storyline from when she moved from Michigan and where she had gone since. There were still a few details I wanted so I decided to upgrade to get a complete report, called a "Premium Report Upgrade".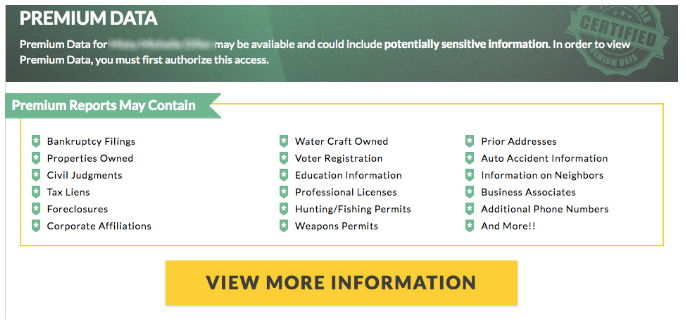 It gave me access to additional details like business associates, professional licenses, corporate affiliations, prior addresses, properties owned, etc. for $17.47. I decided that it was worth the small cost and, with this additional information, I was able to track my friend down quickly!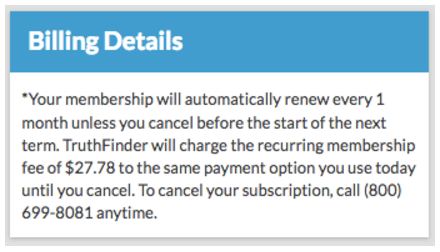 In case you are intimidated by the price, they offer the opportunity to invite your family and friends to join and when they sign up you BOTH get a free premium report credit.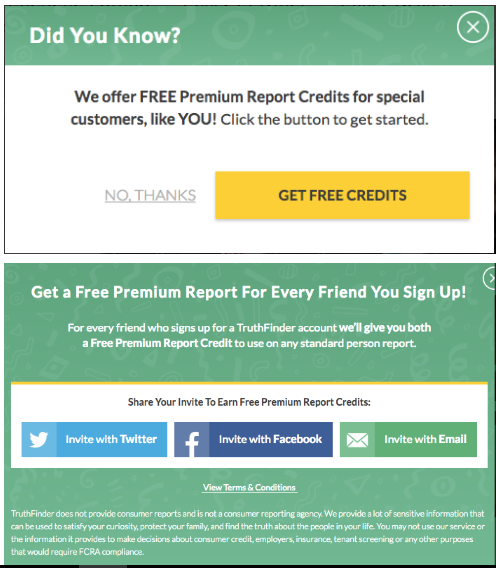 Also, for $2, it gave you the option to download reports as a .PDF file to your computer so that you could keep it stored or print it out. I opted not to do this but it was not much of a cost for an option that could be very convenient for some people.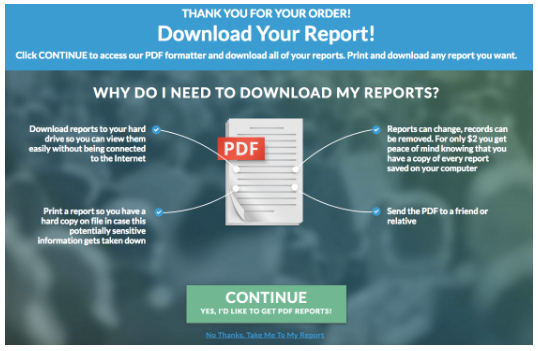 Visit TruthFinder
How to Use TruthFinder?
The TruthFinder report I received is by far the most comprehensive collection of information I have ever received. It is easy to understand, has a very direct menu of sections on the left that will bring you where you want to go, and it doesn't make you click 100 links to get to all the information but, instead, organizes it neatly for you all in one place.
When you first open up the report, you are given step-by-step navigation to help you get around quickly and concisely.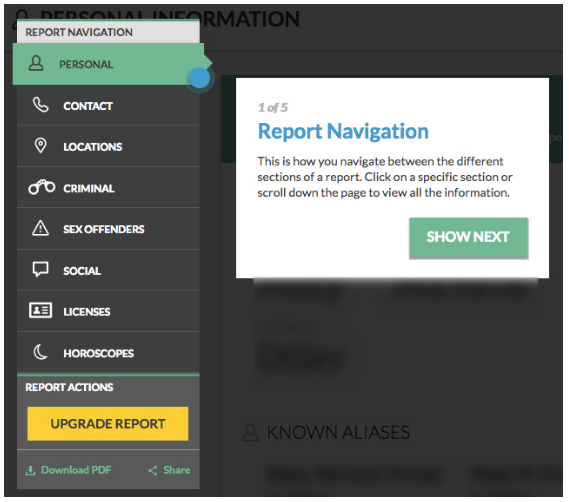 Your "home page" is very nicely organized with the search bar at the top asking you simply for first and last name, as well as your state. All of your previous searches are saved below in a column that allows you to sort by most recently viewed, name, age, etc. There are quite a few applications where this could be very helpful.
When you open a report on someone, they not only list their name but also their birthdate, age, astrological sign and any known aliases. This proved to be the first step I needed in finding my friend. I realized that she had gotten married somewhere along the way and her name had changed, which explains why I didn't find her on social media under her maiden name.

Directly below that, it matched possible pictures of the person which help you make sure you've got the right person. It had been 20 years but her face was the same and I could see from the pictures that she had children and grandchildren!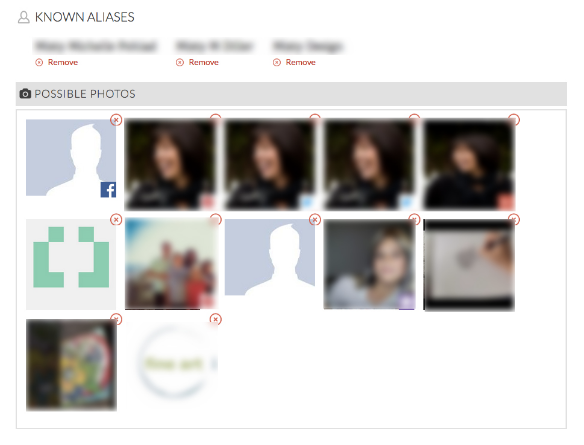 Her jobs throughout the years were listed as well as her education, from undergraduate to graduate degree work at various universities across the country. Not only did it list the school but it went as far as to tell you the degree area and the dates attended.
Relatives from both her family and her husbands were listed very clearly and each one gave basic information on each person such as where they lived and how old they were. Each one also had a link to let you look directly at their report and showed a drop-down list of each of the relative's relatives. Once again, above and beyond what I expected.
I was absolutely blown away by the list of related links that I was presented with. Every type of social media I could come up with was listed and even some I had never heard of. I was able to directly connect via link to her Facebook, LinkedIn, Pinterest, Google+, Twitter, etc. Essentially, anything that she had been directly tagged in was listed.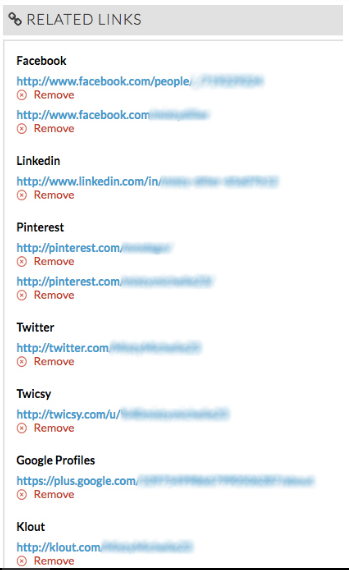 What was most important to me was the phone number section. It provided every phone number she had been connected with throughout the years. Most sites only give you the number but this told you who the carrier was, if it was a landline or cell phone, if it was prepaid, the location, and whether or not it was connected. It gave me 4 options, one of which was listed as current and connected, and I was able to call and be directly connected to her. Now, I'm not shy but if you were trying to be a bit more discrete or cautious you could utilize the email address section and possibly shoot off an email quickly.
Previous addresses were also listed; basically, anywhere she had received mail at in the last 20+ years was shown. From businesses to home addresses, each was labeled as to its usage (business, residential, PO Box, etc) as well as whether or not it was deliverable and currently receiving mail. A map was very clearly displayed and let you see a visual representation of each location. The map was interactive and let you zoom in and out for perspective but I wish it would have enlarged so you could see it better.

Nearer to the bottom, it listed criminal record, driving infractions, and sex offender registration for both the person you're searching as well as in relation to each of the addresses they were linked to.
As if that wasn't enough, it also went into detail about her astrological sign. It told me things I basically already knew and offered me a compatibility test so we could compare our signs and see if we might someday fall deeply in love. As the likelihood of that is slim to none, I disregarded it. However, for someone who was searching information on a lover or someone they met on an online dating site this could be very helpful.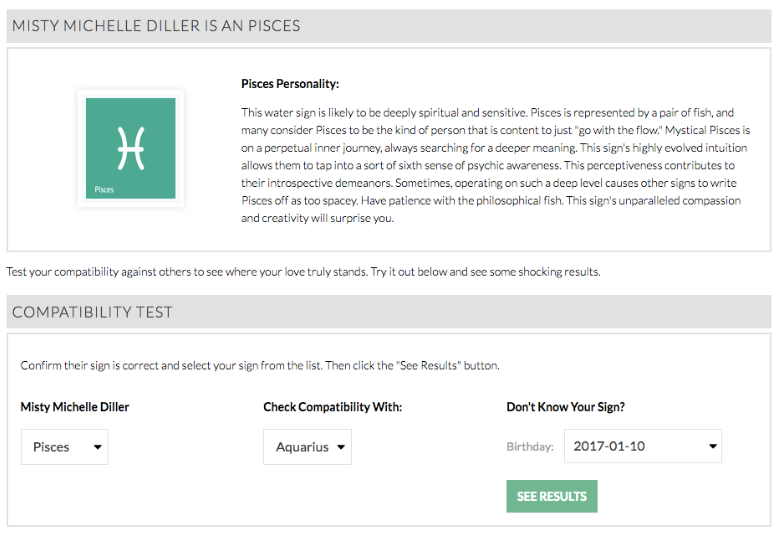 I did notice that they offered an Android app but, since I do not have an Android platform phone, it was of no use to me.
What I did find very interesting was that at the very top of the page you were asked to review the information, rating the quality of the content with a 5-star rating system and it also allowed you to flag the report as inaccurate. I would assume that this would be most helpful when researching one's self.

Visit TruthFinder
How Good is Truthfinder Data?
It was the information review that piqued my interest initially to search myself but I also wanted to make sure that the information I was getting on my friend was trustworthy. Not only did I search myself but I got a little carried away with friends and relatives. The unlimited searching can be a little addictive!
For the most part, the information I found about myself was accurate. It did not list a current phone number for me but it had about half of my email addresses and most of my social network information.
The LinkedIn section was very clearly off and I am assuming that it somehow linked to another person who has the same name as me, though that is uncommon. Because of that, my education background and work history was incorrect. I do not have a LinkedIn account so perhaps that is where the issue stemmed from.
I was incredibly taken aback at the amount of information the search on myself had amassed. I guess I didn't realize how much of my information was being made public by social media venues. It even had a car accident that I had been in back 10 years ago because it had gone to court. It showed everything – the municipality in which the accident occurred, the date, the court case number, offense type and description, plea, status, and the final outcome.

All in all, I would say the information provided was about 80% correct.
Visit TruthFinder
How do I cancel TruthFinder?
When I had made contact with my friend, I decided to cancel my subscription. I remembered at the sign-up I had been given a phone number to call so I went to search for that. To my surprise, under Your Account / Membership Settings it gave me the option to cancel online. It gave a quick drop-down list to select why you were cancelling the service.
I submitted my option and was then offered a discounted rate of $9.97/month to continue my account. I did not have any use for the service so I decided against it but it was very tempting.
Once canceled, it confirmed and said that I would still have access to my canceled subscription until the end date so I was able to continue throughout the month I had paid for.
Visit TruthFinder
TruthFinder Final Thoughts
All in all, I was very impressed and quite happy with TruthFinder.com. Not only did it find the person I had failed to find through multiple other venues, but it gave me a wealth of information and ways to contact her. It was easy to use, well organized, and an overall very pleasant experience. I ended up paying just about $30 to find a long lost friend and it was absolutely worth every penny. We were able to connect while I was in town and this has changed both of our lives going forward.
Visit TruthFinder
Price

Accuracy

Support

Interface/Features