Price

Accuracy

Support

Interface/Features
Summary
Intelius is a resource that allows you to search for information about an individual privately and securely. With a high accuracy rating, you can trust that the results are as thorough as it gets.
Pros
They seem genuinely interested in knowing how to better their service.  They have a floating "feedback" bar on the right side of the site that opens up a quick questionnaire asking what you liked and didn't like and how they could do better.
The site lets you search by name, phone number or email, which opens up a lot of options for how to use the service.
The results were propagated quickly; I didn't have to spend a lot of time waiting for the search to load information.
The mobile app is very helpful for reverse searching phone calls that you don't recognize.
There is a tab at the top of the page entitled "My List" which shows you people you add to your list,, which keeps the information at your fingertips  for as long as you have the service.
Cons
To get more than just the one criminal background check you are given with your membership you need to upgrade your account.  This is an additional $19.95 per report, which seems expensive compared to other services that allow you to do unlimited background checks for around $40/month.  If you were needing to do multiple background checks this service might not be the best one for you.
Background checks are only available when you purchase them and after you close out of them they are gone.  They should be available for continual access on your profile since you paid for the information.
I wish there had more contacts listed in connection to the person I was searching.  It seemed like there should have been more people associated than there were.
Recently, I was contacted by a woman who claimed she owned a local photography business that I had never heard of.  She was looking for someone to collaborate on a creative project with.  The concept was interesting to me but it almost sounded too good to be true so I decided it was in my best interest to verify the identity the person contacting me to make sure they were someone I wanted to spend a significant amount of time with.  I looked online for the highest rated research company and stumbled upon quite a few but the one that stuck out to me was called Intelius.
Who is Intelius?
Intelius has been around since 2003 and specializes in information and interconnectivity of people throughout the world.  Located in Bellvue, Washington, they are fully integrated both online and on mobile devices so you can use them at home or on the go with your smartphone.  I also noticed that they were rated A+ by the Better Business Bureau, you know you are going to get detailed results and top-notch customer service.
Modern technology is a wonderful thing that opens doors and sheds light on who people are but it is not always thorough and what is presented online is not always reported correctly or fairly.  Intelius offers assurance that you can't get other places because they boast access to billions of public records each year.  That, paired with noticeably fast servers, gets you reliable data quickly.
Visit Intelius
Intelius Pricing and Available Plans
There are, of course, many companies that offer similar services.  They have all been reviewed many times, both by vetted news corporations as well as thousands of individual user reviews.  All too often, human nature is to only leave a review when you have something you need to say which generally is when you've had a negative experience so I had no trouble finding a plethora of negative reviews on the Better Business Bureau website. However, this is consistent with all of the other businesses I looked into that were similar.  Ultimately, people did not read the fine print when they signed up and were complaining about so-called 'hidden' charges.  Intelius had the same public response as did others like US Search, NetDetective, and InfoRegistry.  

I looked into a few of the comparable companies and this is what I found.  With US Search, I was able to access a full background check for a discounted rate of $29.95 as long as I agreed to have OmniSearch, a $19.95/month subscription, along with it.  The OmniSearch function would be free for 2 days but you had to remember to cancel it.  NetDetective was simplistic looking and felt cold; very basic and rudimentary.  It offered a discounted rate of $4.95 for a 5 day trial version which renewed to a $29.95 monthly fee.  Finally, InfoRegistry was also rather basic in nature.  None of the results of my initial search matched the name to the location and a $29.95 subscription only promised that a report MAY include all the information I was looking for. The site seemed broken because when I clicked to see a sample report the page appeared jumbled  and when I inquired into the "Terms of Service" it lead me back to the home page and did not give me the information I needed.  With Intelius, I noticed that you can do a simple search if you're just looking for a way to contact someone or you can look deeper into their history by doing a background check.  From this standpoint, Intelius is the clear winner.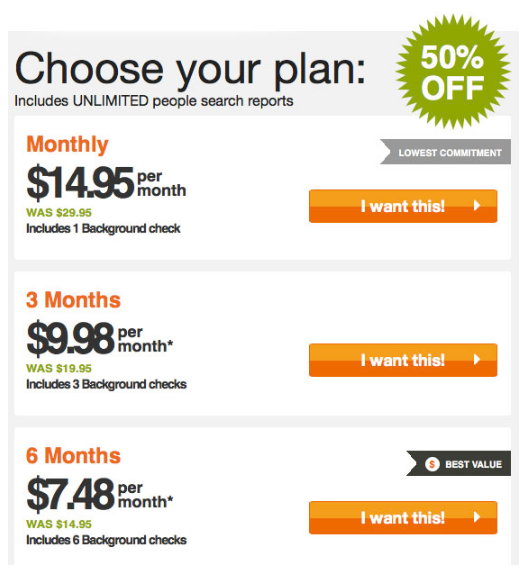 I was pleasantly surprised by the ease of finding the person I was searching for.  All I had to do was enter their first and last name along with the city and it immediately returned the correct result.  There, in front of me, was the person who had contacted me.  I was presented with 3 options – 1 month for $14.95, 3 months for $9.98/month, or $7.48/month for 6 months.  Because I was only searching for one person, I opted for the one-a-month plan.  It was a little more expensive but it included the background check that I wanted so I didn't mind paying for it.  

Visit Intelius
How to Use Intelius?
As soon as I put in my payment information I got immediate results!  It was a detailed list of where she lived (both past and present), relatives, contact information, and even gave detailed market value information of her home.  I used my free background check for her and was able to look to see if she had a criminal record, any infractions or offenses, and so much more.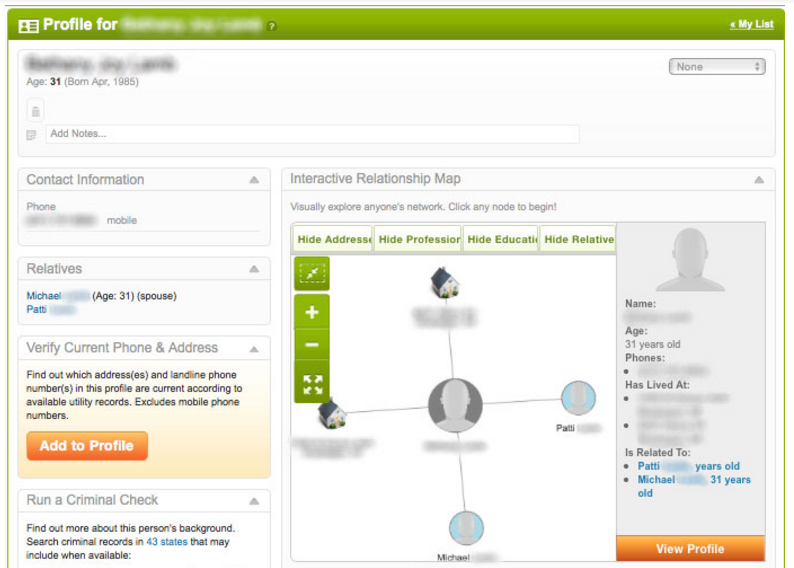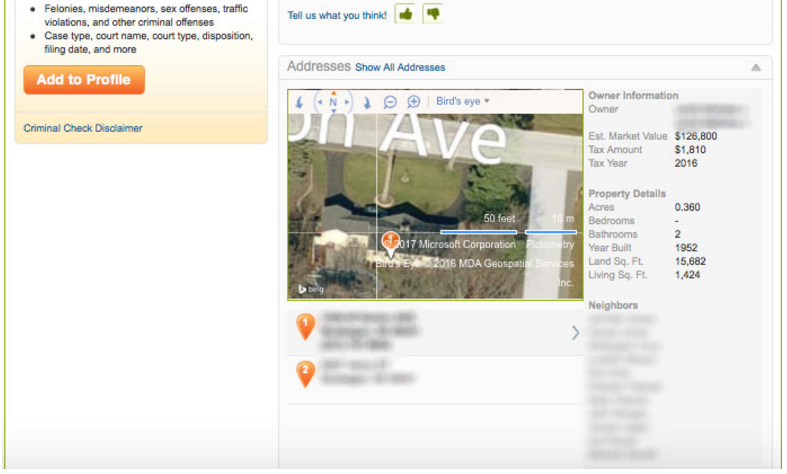 Front and center, there was an interactive map that linked to people and locations that the person is closely tied to.  You can click on any of those bubbles and explore the information that is given on them.  

It also gives you the option to upgrade the membership and run a criminal background check on the person which, for me, wasn't necessary but could be helpful for others using the service.  
Another really neat feature was the map showing exactly where the person lives.  It gives a bird's eye view of the home and breaks down the estimated market value and other property details.  Again, this didn't seem to matter much to me at first but it could have changed my opinion if she had lived in a really rough neighborhood as I was potentially going to be spending a lot of time at her home.  To be honest, I don't know if I was excited or disappointed to find nothing questionable in her background check.  While it didn't note any criminal offenses or civil court records it also had a disclaimer noting that some records may not be digitally accessible and that the results may not include all types of civil cases. I was relieved to know that the person I was searching wasn't a convicted felon but I question that maybe there is something not listed.  It also had no education or employment records for her, nor did it reference any social networks.  
When I signed up for the Intelius Premium membership I was offered a free-of-charge social media assessment called TrueRep.  The idea is that they survey your social media presence and show you how it looks to others and how you could potentially improve it to make it more appealing to people, including prospective employers or business relationships.
They also have a smartphone app that lets you reverse-search phone numbers.  All you have to do is copy the number from your recent missed calls, paste it into the search and it will actually pull up a decent amount of information on the person, including their name, age, address, work, other forms of contact, social media profiles, and even relatives.  Each section is expandable, so you basically get a full breakdown on the person.  

Visit Intelius
How Good is Intelius Data?
To verify that the information I was being given was correct, I decided to go rogue and see if there was a facebook profile that might give me more information and, in fact, there was.  Her business page linked back to her personal page and I was able to view a decent amount of information through that avenue. None of this information was available through the Intelius, search, which leads me to believe information is potentially being missed.
I installed it and logged onto the mobile app with no trouble at all and, though I didn't necessarily think I needed this function, I have used it quite a bit!  I tested it out on a coworker, asking for her phone number and punching it in.  It not only provided me with her name but also her husband's name and her address!  I searched a few calls that I had screened recently and found them to be local people.  A few of them linked to possible social media profiles.  I was more confident calling them back because I knew who I was talking to.  I booked two photo shoots that I would not have otherwise booked because they had not left a message and I would not have called them back blindly.  Because I had the information to know who I was talking to I felt comfortable connecting with them, which is a huge perk for anyone who might otherwise shy away from answering or cold-calling unknown numbers.
However, when I went into the TrueRep section it was locked and asked me to verify my identity, which it said it could not verify.  After working with a customer service representative, I was able to sort out the issue and review my online reputation.  As it turns out, I'm not very influential when it comes to social media but I'm ok with that. However, this could be a really powerful tool if you utilize your social media presence to market your business online.  It also gives you tools to help you improve your reputation score, which is above and beyond what I expected from this free perk.

Visit Intelius
How to Cancel Intelius?
When I had searched to my heart's content I decided to cancel the subscription.  I was surprised how easy the process was!  There was a simple form to fill out denoting why you were canceling your subscription and then they confirmed that you would not be billed further.  It was that simple!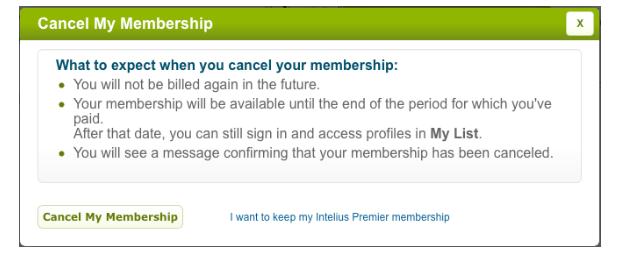 Visit Intelius
Intelius Final Thoughts
With all the searching I did, I didn't find much. This is a good thing, though; The last thing I wanted was to find out that she was a felon or had other strikes against her.  Of course, no online inquiry is going to have all the information and ultimately they are all searching the same pools of public data. The fact that it did not find any felonies or negative remarks on her or her business  was reassuring. Because of what I found (or, perhaps, didn't find) I felt comfortable working with her.  I later inquired about her phone number because the one given for her did not match what she had used to contact me and she had no idea who that phone number belonged to.  
If I had to rate the service, I would give them a 5/5 for price, 4/5 for accuracy, 5/5 for support and 5/5 for interface and features.  All things considered, this website saves you a significant amount of time and frustration and gives you mostly trustworthy results quickly. I was sure to leave a positive review online.
Visit Intelius