Price

Accuracy

Support

Interface/Features
Summary
The information I acquired through InstantCheckmate has proved to be thorough and correct, making it invaluable to me. It blows the competition out of the water with the user-friendly interface and high level of commitment to accuracy, providing you a ton of information in an easy-to-navigate format.
Pros
The interface was very easy to use, visually appealing, and was very direct. You didn't have to search around for what you wanted because there was a guide on the left side of the page that let you quickly jump to whatever section you were looking for.
When the report is generated, the site guides you through a few steps showing you where to find pertinent information, how to navigate successfully, and just general suggestions to make your experience easier. I found this to be very thoughtful and helpful.
The ability to flag information as incorrect is a nice bonus. It shows that the company is concerned about the validity of their information which made me feel much more confident in the information I was receiving.
Canceling the service was simple and easy. In the account settings, I pressed the link to cancel account, it asked me why I was canceling, then it offered me a discounted price to stay. The discounted monthly price was $9.97/month, which is a tempting offer but I decided to cancel anyway.
Cons
The time it took to search seemed excessively long. There must have been at least 6 screens showing that data was loading in the process of procuring a report and that was before you ever paid for the service. After you paid for the service, the searching was instantaneous which makes you think that maybe the beginning wait was just a way to create suspense and get users invested emotionally in the search process.
The price was a little steep for me, considering other sites offer background checks for less. It was only after I signed up that I was made aware that there was a premium option that was an additional fee. All in all, I paid a little over $50 for information that proved to be invaluable so it was an ok trade off, in my opinion.
If you had the need to use the service for an extended period of time they offer a discounted price for 3 months but unfortunately they only offer this if you pay the entire price up front. With the automatic renewal, this would mean that you are charged $83.47 every three months and if you accidentally forgot to cancel the service it could be quite the hit to your bank account.
Who is InstantCheckmate?
InstantCheckmate found its beginning in 2010, originally serving as a resource for people to search online-dating prospects. This was around the time that online dating became popular and, unfortunately, more and more fraudulent profiles were being created. Of course, people needed to be able to trust who they were talking and InstantCheckmate provided them with the resources they needed to validate that the person not only was who they were claiming to be but also that they didn't have any glaring negative marks on their record that they may not be admitting to. From there, they expanded to serve people on so many more levels. Ultimately, they seem to have made it their goal to make the truth accessible to anyone, from the basics like contact information all the way through criminal records and sex offender status.
Visit InstantCheckmate
InstantCheckmate Pricing & Plans
I stumbled across InstantCheckmate was because of a gentleman I met on a Caribbean cruise . We got along fantastically and started to spend quite a bit of time together. He seemed very sweet but, for the sake of being thorough, I decided to do a little background research.
When I searched his name, I was offered two package options. The first was a 1 month of unlimited reports for $34.78/mo and the second was $27.82/month if you signed up for 3 months at the very beginning.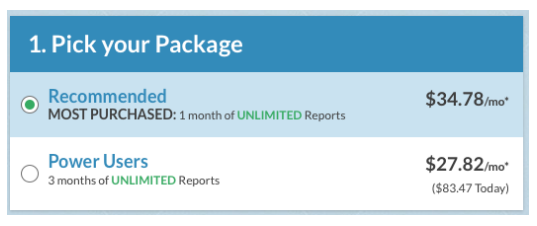 I chose the 1 month because I only really needed to search one person and didn't think I would have an ongoing need for the services. I made sure to check out the billing details, as denoted by the asterisk and found that the membership would automatically renew after 30 days unless cancelled.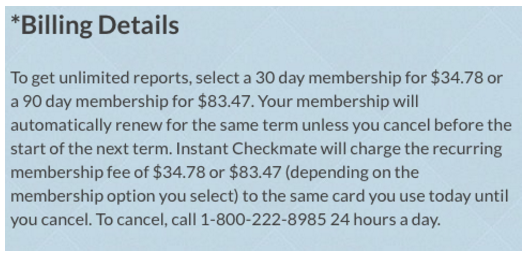 Upon entering my details, I submitted the form and was taken to a screen that offered the option to download my reports to my computer, print or send reports to friends. If I hadn't been paying attention, it would have been very easy to press the big green button to continue but I chose to continue without the ability to download them.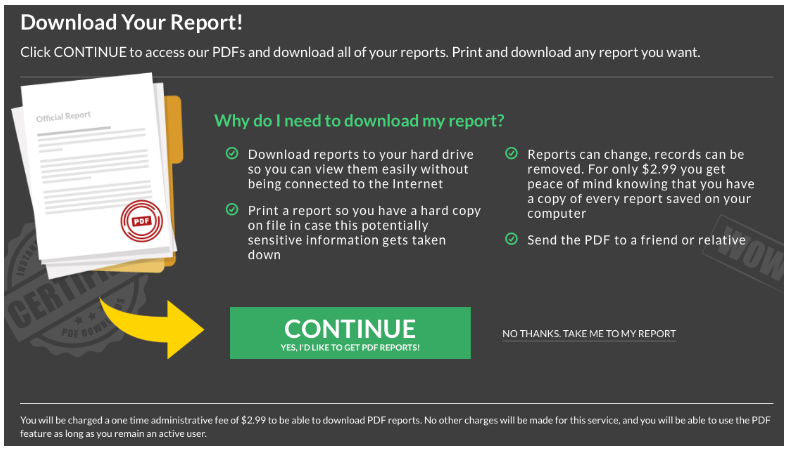 I'm sure it is a very convenient option for people that don't mind spending a little more money.
Visit InstantCheckmate
How to Use InstantCheckmate?
Once I was all signed up, it pulled up the report and gave me little tips and helpful tidbits of information to help me make the most of my search. It showed me where to find features and offered an upgrade that would reveal a deeper level of information which, to be honest, I didn't think I needed until I read his report.

Everything seemed pretty normal at first – contact information and relatives were sparse and there wasn't much of a social media presence reported. A little further down things got a lot more interesting. There were a slew of charges against him noted, beginning with underage drinking, fraudulent license plate tags, driving without insurance, driving while license was suspended, etc. Then, the fraud charges. Not only did he have charges against him referencing Financial Identity Fraud but also a Felony Larceny!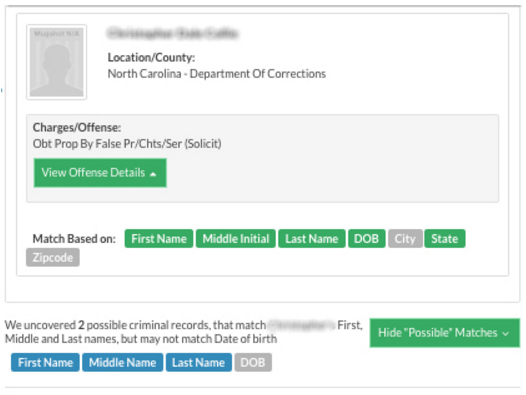 Needless to say, I immediately paid for the premium membership so I could access more information, It offered civil judgement, professional licenses, weapons permits, and much more.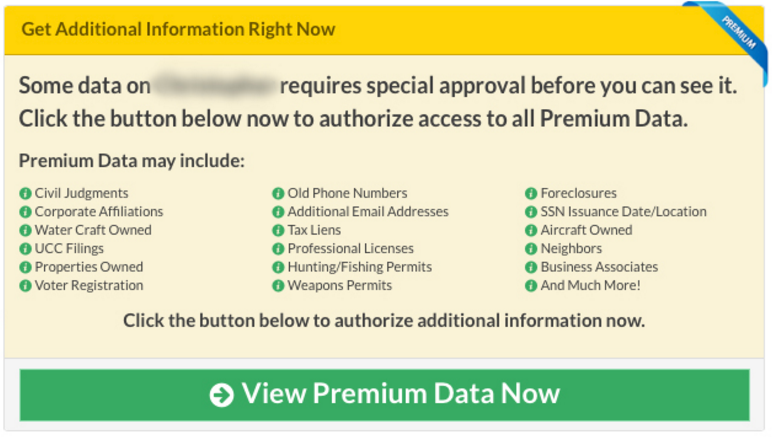 At this point, it was mostly curiosity that drove me to dive deeper and it didn't prove to be that much more beneficial. Most sections that were provided by the "premium" function were blank and said returned 0 results. Despite the lack of more information, I am incredibly glad that I followed my intuition and checked into him! There is no way, knowing what I know now, I would let this man into my life.
When the website said that they have a wide variety of information that was suited to anyone, they weren't kidding. The report showed basic contact information, possible relatives, birth date and other known names for the person. Something I haven't found with other search sites is that gives you pictures associated with the person you're looking up. This gives you the peace of mind to know that the person you're looking up is the correct person. If you didn't know the person already and had only met them online it would give you a helpful visual representation of the person so you can put a face with a name.

I was pleasantly surprised to find that they provide you with as many connections to social media profiles as are known. It shared a direct link to the person's Facebook, Twitter, LinkedIn, and a handful more. From my report, I was able to look through these social profiles, all of which were pretty clean. This didn't benefit me directly but if you were searching someone you met on a dating site this would be incredibly helpful because most people use their social profiles to express their personal opinions on a wide variety of topics. You could potentially get a good sense of someone's personality before investing too much time into conversation.
Another feature that might be of assistance when considering dating someone would be the birthdate and zodiac sign matching. Whether or not you believe in the Zodiac as truth or just regard it as entertainment, it is interesting to look into. All you do is enter your birthdate or choose your Zodiac sign and up pops a compatibility report with a detailed result with suggestions of how you might interact and how to best navigate your relationship for optimal results.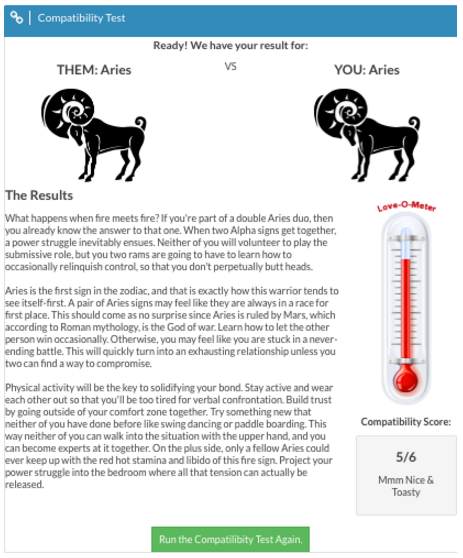 With potential pitfalls as well as ways to avoid them, this is a very helpful tool for people pursuing a relationship. Apparently this gentleman and I would be a great match… if he wasn't a liar and a fraud who spent his days taking money from naive people who trust him.
In my experience, the criminal records were what proved to be the most helpful. Each offense was listed separately with the booking date and location. Not only did they outline the offense but gave you an expandable menu that let you see deeper. It gave you a case number and the charge type, detailed offense code, criminal code, arrest disposition showing whether they were arrested or released, disposition date, and court where the offense was dispositioned. With the case number in hand and the county location you should be able to either locally obtain a report on the offense or pay for someone else to procure that information for you online. If they were arrested, it gives you the offense they were arrested for, the type and level of arrest, and the sentencing start date.
The location information would also be a very helpful section if you were trying to find old friends. Not only does it show their most current reported location but also any past known locations and the time period they lived there.  A premium function furthers this search because it lists possible neighbors for this person and their address. Each one gives you the option of doing a report on them which would provide you with their contact information and their criminal record. If you wanted to get a character reference for someone and weren't afraid to do a little cold-calling this would be a great resource. This resource would also prove very helpful in a situation where you were sending a child to a friend's house to play; You could look into the neighbors to make sure it was a safe neighborhood and that there weren't any pedophiles living next door.
Visit InstantCheckmate
How Good is InstantCheckmate Data?
Something that is very important when you're looking someone up online is that the information provided is accurate and reliable, especially in my situation when I am making a character determination on someone who is essentially a stranger to me. The last thing you want to do is falsely accuse someone because of a search that provided you with misinformation.  So, to be sure, I searched myself and a few close friends. It showed a handful of correct relatives, 5 email addresses (only 3 of which were correct), and almost every address I've ever lived dating back to when I was in primary school. It pulled up one traffic violation but, truth be told, I have a few more that weren't shown. It pulled up 8 social media profiles for me, two of which were completely empty and were nothing I had ever intentionally signed up for. As for criminal offenses, I have a clean record so I had to look up someone I knew that had a misdemeanor to see if it was reported and was pleasantly surprised to show that the information was accurate. The same proved true for the most part on the other people I searched. To the best of my knowledge, the information was correct and thorough.
The amount of data available on InstantCheckmate was much more than I expected. It covered all of the major categories and branched into the social aspects of people. It provided information that would be helpful for people searching for any reason, be it personal or professional. I do, however, wish it gave you a little more information on the person's education. It listed "some college" for one friend but nothing for me despite completing a bachelor's degree and having a few professional licenses to my name.

Something I've never experienced on any other search site is the option to flag information as incorrect, rate information by how helpful it was, and the option to leave comments. You are allowed to anonymously leave a comment about a person or the information provided which would be very helpful if you were reviewing your information and found something untrue.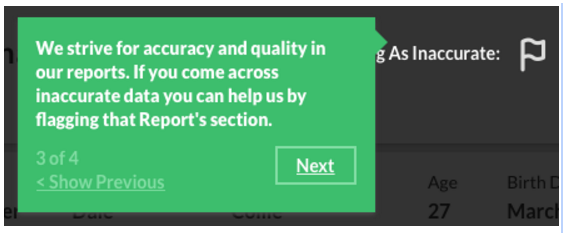 Visit InstantCheckmate
How do I Cancel InstantCheckmate?
After the cruise docked back in port, I decided to cancel my membership. I hadn't met anyone else worth searching and had no use for the service. The cancellation process was quite simple; just a short form with a few quick questions. Upon submitting the form, they offered me a discounted price of $9.97 to keep my membership which, if I had use for the service, I would definitely have taken advantage of.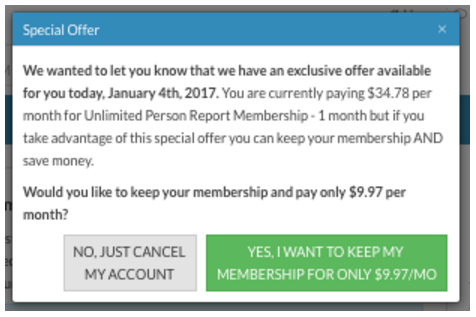 My cancellation was confirmed and they let me know that I could still use the service for the remaining month that I had already paid for.
Visit InstantCheckmate
InstantCheckmate Final Thoughts
I have used background search sites before with varied results but InstantCheckmate has been one of the more well-organized collection of resources and gives you a more diverse selection of types of information than other sites. It went above and beyond by linking to social media accounts and providing pictures of the people you were searching. The reports were intuitively designed and it seemed as though they had thought of everything that the end-user might need. When it comes to peace of mind and security, it is important to know that your results are accurate and thorough and that is exactly what I found with InstantCheckmate. If I ever have the need to research someone in the future I will definitely be back because I know that I will get the results I need.
Visit InstantCheckmate