Price

Accuracy

Support

Interface/Features
Summary
Been Verified incorporates a wealth of good features and manages a seamless blend of tech and old fashioned leg work that gives you a wealth of info and the ability to dig really deep.
Pros
Easy to use
Comprehensive standard search
Tech savvy
Cons
Option for non-digital searches
Meh
"Premium" databases don't always deliver much more
Who is Been Verified?
Founded in 2007, tech-savvy Been Verified is based in New York City. This fast-growing company has one of the most popular background check sites on the market. Started by a pair of young entrepreneurs, Been Verified now has more than 50 employees, over 100,000 subscribers and boasts 10 million visits each month.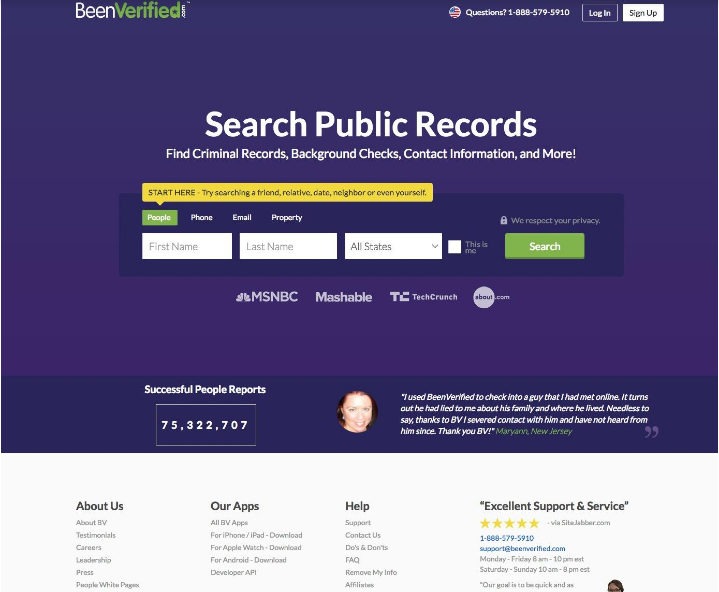 Visit Been Verified
Been Verified Pricing and Plans
One feature that sets Been Verified apart from many other in the field are the apps available for iPhones, iPads, Apple Watches or Android devices.
Expensive if all you need is a single basic search, Been Verified's three-tiered monthly subscription schedule gives you a break the longer you sign up for – $22.86 for a month, $14.86 a month for three months and $9.83 a month for six months. Though pricey for a single search, Been Verified gives you far more info than some other sites and could be the better choice depending on how important it is to get the answers you're looking for.
Visit Been Verified
How to Use Been Verified?
Been Verified does a great job of meeting its deceptively simple goals of providing the most info for the best price quickly and painlessly. This is an excellent site if you're doing your first background check. It's a site that practically takes your hand and leads you through the whole process, often answering questions you haven't even thought of yet.
I'd recommend this site if you're attempting to perform your first background check.
Clean, uncluttered webpages make using Been Verified almost second nature and the site displays results in an easy-to-read format with an option for downloading an equally straightforward, printable PDF.
Sign up
Been Verified's sign up process is a breeze and, as an added bonus, a painless and comprehensive tutorial on the do's and don'ts of private background checks. Even better, the sign up process provides a number of surprising and helpful suggestions on who you might want to check out and why – from locating the long lost relative of a seriously ill friend or checking to see if those misdemeanors you committed in junior high have been properly removed from your records.
Standard search
The site's standard search is so extensive, notably including criminal info, that it's likely you're not going to need to pay extra for a deeper search.
The standard search turns up public phone numbers, email addresses, a residential history, immediate relatives (noting those who are deceased), any imposters, available educational and professional info, social media presence, photos, criminal and traffic records and bankruptcies.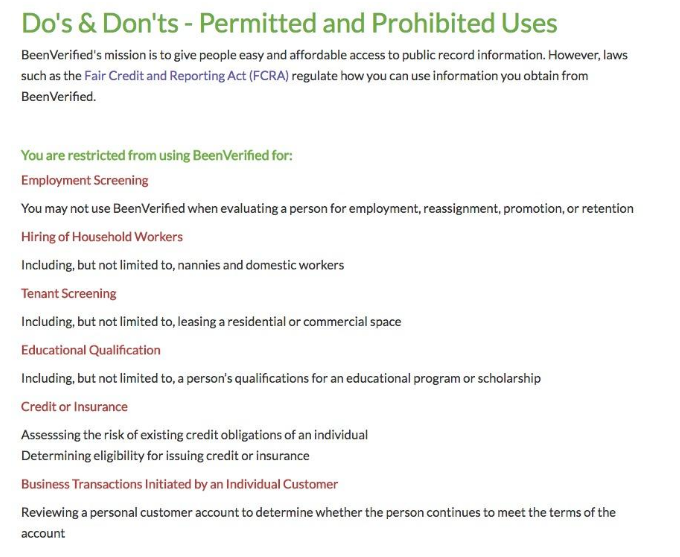 At every step, Been Verified politely and conscientiously reminds you what you should and should not be using the info for. It also goes a step further, providing a number of testimonials which detail the many uses for background checks.
Premium data
This feature is just as easy to use as the rest of the site, pretty much clicking on a single button to quickly update the report (for a fee of course) with more educational, employment, financial, and contact info.
Social media monitoring
There is also an option for monitoring any changes in the social media presence of someone you've searched for.
Reverse phone lookup
Is just what it sounds like it is: enter a phone number in the search field and find out who it belongs (though only if it is a public number).
Customer service
Been Verified goes out of its way to make it easy to get help, staffing a call center 7 days a week and providing ample online assistance. Unusually for a website, the "Support" section under the Help heading at the bottom of the webpage actually provides useful info on how for DIY tasks like cancelling your subscription, explaining why you're having trouble with your search, downloading an app or using a specific browser.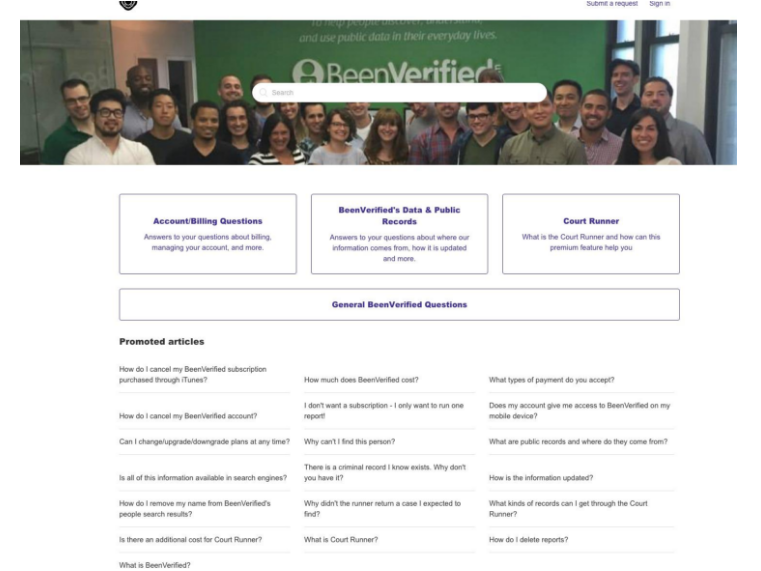 Visit Been Verified
How Good is Been Verified Data?
Results on the searches I performed were nearly universally quick, accurate and comprehensive. Searching for one of the roommates I shared a flat with in San Francisco more decades ago than I care to remember, not only turned up all the current info for him I could've hoped for, but also that apartment address in SF as well and several email addresses, too. Searching with premium data unearthed limited employment data, an additional phone number and the fact he once had a pilot's license (who knew?). A self search revealed that, no, I was never arrested on some of those nights in San Francisco that I don't remember so good and a very old satellite photo of my current residence.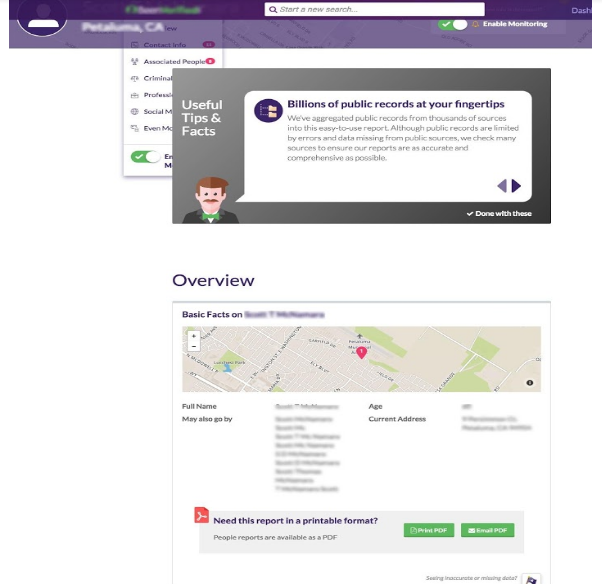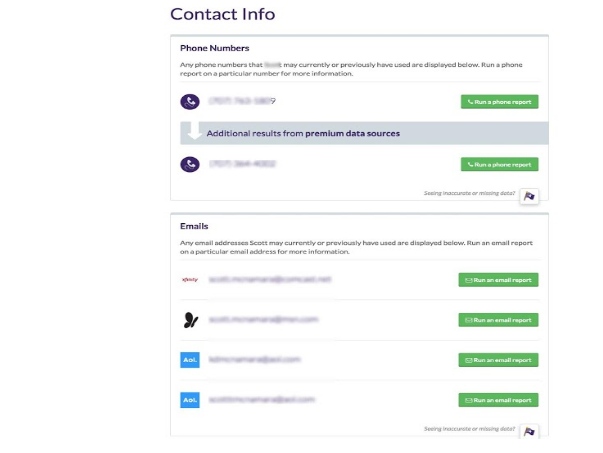 Visit Been Verified
How do I Cancel Been Verified?
Cancellation was so simple I forgot I'd done it! I had to go back and double-check myself. Here's how it works: simply call customer service (1-888-579-5910) or email: support@beenverified.com.
Visit Been Verified
Been Verified Final Thoughts
I'd have to say you'd need to look around for a while to find a better value than Been Verified, especially if you're planning on doing a lot of searches over several months. Although some sites charge considerably less for a single search you might want to consider Been Verified if that single search is a really important one – in the long run you could end up paying more for criminal and financial records on another site than if you'd just signed up for one month on Been Verified.  
Visit Been Verified